Tool Manufacturing in Texas
Dalworth Technologies designs tooling for ease of manufacturing, reliability and serviceability. No matter if your tool is a one-cavity simplistic tool or a four-cavity delicate and intricate tool, we have the means and knowledge to make your dream tool a reality. Starting with a good design ensures a better built, better operating mold and highest quality parts. We here at Dalworth pride ourselves in our tooling design experience and expertise, and we use this knowledge to make the manufacturing process smooth and stress-free. Once we have the design made up to your specifications and secure your approval, we start building your tool. Our tool makers use everything in their repertoire to construct a well-running tool. We use up-to-date PC platforms with modern CAD/CAM software, including AutoCAD and the latest versions of Solid Works and Mastercam with our CNC machine to make fine cuts and designs. If you are looking for a place to repair your tool, Dalworth is the place to go. In our experience, we have fixed anything that has to do with molding.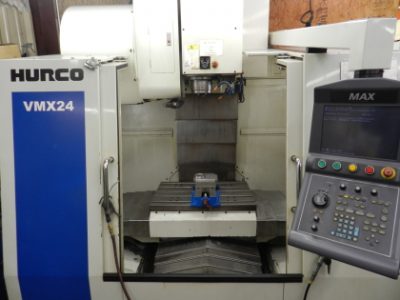 Utilizing modern CNC (Computer Numeric Control) machining centers ensures accuracy, reliability, and on-time completion for all of your tooling needs. Our Hurco VMX24 CNC Milling (Travel is Y= 20in, x= 24in, z= 20in) is well-equipped to tackle most of your tool manufacturing needs. Machining is based upon 3D CAM programming from Mastercam enabling precutting verification of tool paths. Multiple cavities/core are accurately repeatable. Our CNC tech is educated in every facet of using a computer numeric control milling machine and has been in the business long enough to tackle any project thrown his way. If CNC milling cannot get the tooling job done we have two electrode machines to either finish the project or make those tough cuts. Electrode machining is efficient and reliable in producing high-quality tools that have corners or hard-to-mill places or designs. With both of these machines at our disposal, we can create world-class molds.
At Dalworth we are experienced in working from customer-supplied concepts; we design, build, and test your tooling in an environment that combines proven skills with advanced technology. Here at Dalworth we excel in mold repair and mold modification on top of building the molds. We have a combined 75 years of experience in the field of tool making so whatever your tool needs to be back up and running. We can make it happen. To ensure tools are built to exacting tolerances, we use a full range of inspection and measuring equipment along with knowledgeable toolmakers and a rigid set of quality procedures. When we deliver your tool to you, it will be 100% production ready.
Contact us for more information about our CNC and tool manufacturing services. We proudly serve clients throughout Texas.